On the morning of the 5th May, 2019, parishioners coming for morning mass at the Church of Divine Mercy, Penang (CDM) were strangely alarmed by the arrival of two ambulances from the Kepala Batas and Penang General hospitals. However, it was just the day for the 5th Blood Donation & Free Health Screening event to be held at CDM.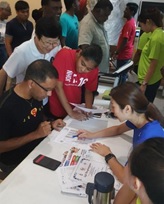 Through the course of the morning after the morning mass, 115 parishioners participated in this event which was jointly organized by Thomas Devass from the Ministry of the Poor, BEC P & M4 and the Disciples of Mercy. Pantai Hospital also sent personnel were also on hand to carry out tests on blood pressure, random blood sugar levels and body mass indexes (BMI) in addition to campaigning for organ donations. There were also a doctor and ten nurses who came to carry out the blood donation where 34 donors successfully gave their gift of life. This included 10 youths aged between 18 to 25 years and others who ranged up to 60 years old. Among them were six first time donors. Unfortunately, six people were unable to donated their blood and were alerted to their various health problems. There were also six people who came forward to pledge their organs. Seong Optometrist Sdn Bhd also supported this event by sending three stuff members to provide eye sight test. This was a very well received mostly by the more senior members of the parish.
Many of the people who came to participate in this event said that this was such a meaningful event and should be held more often, at least twice a year. In addition to monitoring their health and bringing greater awareness of their level of health, this also provided an opportunity for bonding and sharing such a worthwhile experience. It was a timely reminder for many to make necessary changes in their lifestyles. Some even offered to help out in the organization of such future events. One blood donor said that this was an act of giving back to society.
Towards the end of the event Fr Martin Arlando, parish priest of CDM, together with YB Kumaresan Aramugam (ADUN Batu Uban) gave out Certificates of Appreciation to the Hopistals, nurses and all volunteers who helped carry out this event. They were all invited for a well deserved sponsored halal lunch. This event was deemed a complete success as it achieved its objectives for creating better awareness of one's health, fostering greater community fellowship and incorporating a corporal work of mercy with the gift of life and organ donations.
Written by
Angeline Foo
20th May, 2019