The Night of Lights was celebrated for the second year at the Church of Divine Mercy, Penang (CDM). The launching began with the parade of about 15 men, women and children parishioners all dressed up as saints into the Garden of Mercy. After an opening prayer, by Fr Martin Arlando, the parish priest, a poster depicting the saints found on the Holy Door of the church was unveiled. A candle stand was prepared for people nearby for whose who wanted to offer prayers and everyone present was encouraged to come up to identify the saints. There were some obvious ones but for those not too familiar, small information cards were handed out. There were a few St Maximilian Kolbe who came in pyjamas as well as well dressed St Faustina. There were archangels and a bishop and even the patron saint of the environment, St Kateri Tekakwitha. The organizers, Simone and Casey Lim even baked cookies and pumpkin bread for all in attendance. The lights around the Church compounds were also lit up on this occasion in preparation for Christmas.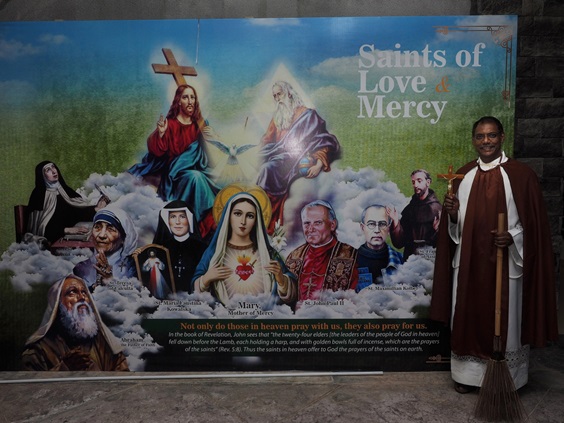 In his homily at the evening mass, Fr Martin explained that at baptism parents are first asked for the name they wished to give to their child. Often this is the name of a saint. This is followed by the question, "What do you ask of God's Church for your child?" Many are often puzzled and even when they say "Baptism" there is the secret wish for happiness, grace, good health and peace, at the back of their minds. The implicit intention of the Church is for them to ask for help to make their child a saint. It is indeed God's desire and dream for us to become saints. Fr then went on to relate the life cycle of a dragonfly that spends a long period as a nymph below the surface of the water only to emerge into a brand new world of light and splendour as an adult dragonfly. This is the analogy of becoming a saint. To forget the worries of the affairs of the world and daily life and to come to know what life is really all about. The church challenges us to think about sainthood as attainable. To honour those who live around us and to look into our hearts to remind us of why God made us.
Fr reminded us that the first things we learn about our faith in catechism is to know "Who made you?". Then we learn why did God make us - to know him , love him and to be happy with him forever in the life after. God has made us to become saints like all those statues we see around us in the church. We are challenged to go forward as we are able to stand on the shoulders of giants. In the last 100 years there have been more saints compared to that of all the years previous to this. In these times the age of martyrs has not ended as the world has shown us that sainthood knows no time period. Fr explained that the stories of recent saints like Maria Goretti, Mother Teresa of Calcutta and Maximilian Kolbe, show us that we all can aspire to holiness. The way is to this is all found in the Gospels for us to make peace, live with a clean heart and strive for righteousness. Prayer and practise is also needed as shown by the soon to be canonized Dorothy Day, who with all her faults and poor life choices, shows us that no one is born a saint. We can all become saints by the grace of God. Just imitate God and portray a life of a saint after the heart of Jesus.
A video was also shown at the end of mass to explain the purpose of the Night of Lights. Fr Martin related a story of how a boy discovered that he was able to light up many dark and hidden places with a broken piece of mirror. This is the way saints, though broken themselves, are able to light up the lives of others. In another story, Fr related how a parent explained that the purpose of the stained glass pictures of saints found in many famous churches was to reflect the light of God to us displaying all the splendour of God through the work of saints.
At this time of the year when we traditionally celebrate Halloween in honour of the dead, it is indeed a good time to remind ourselves of our Christian tradition of honoring saints and all our loved ones who have gone before us in the love of Christ.
Written by
Dr. Ivan Filmer
6th November, 2019.