After over five months of planning through weekly meetings, it finally arrived on the 1st September, 2018. Food & Fun Fair Day at the Church of Divine Mercy, Penang (CDM) with the theme #JomENJOY. Preparations for the stalls began earlier with the setting up of large tents and food preparations. People started arriving as early as 8 am when the official opening time was an hour later. The weather forecast for the day was rain which fell the day before and the day after the fair. But that morning, God was indeed merciful and the sun came out brazing for the whole day.
The children at catechism were told to come and bring a friend along. People from other parishes, many non-Catholics and well wishers turned up to an array of 34 food stalls with 60 different food items and 10 types of drinks, 10 game stalls and 17 booths offering various services from Henna & Face painting, Head and Shoulder massage, health screening and even a garage sale of bargain items. There was something for everyone, young and not so young all at affordable prices. The food stalls held the famous Penang food favourites like Char Keow Teow, Hokkein Mee, Laksa, satay and Tosai & Roti Jala with chicken curry. Other items on sale were the home favourites specially made by the parishioners of CDM. These included Sarawak laksa, Filipino food, tomato rice, nasi lemak and a host of finger food of sausages, fries, cup cakes, waffles and even home-brewed Sabahan Lihing (rice wine). Many who came were amazed at the wide variety of food available. One person remarked, "They actually have so much food! The food fairs I went to, I usually ended up packing home bread." There were many who also came with large orders to pack food for those who couldn't make it.
The games stalls started off with people being offered a chance to dunk the parish priest, Fr Martin Arlando with a bucket of water. The children were entertained by a clown and various games of darting a balloon, angry bird and fishing a lucky ducky. The people at the fair were also entertained to music led by Ronald Vic DeLeon (Pianoman-iac) and Friends which included our very own young musicians at CDM.
Older people had a chance to have a head and shoulders massage carried out by a couple who were former engineers and parishioners of the Assembly of God (AOG). They decided to help out at this fair at the invitation of their Catholic neighbours. There was even a lucky draw which offered attractive prizes.
The organizing committee were given good compliments by those who had organized such fairs before for their choice of food sold, spacing of stalls and the arrangement of sitting areas for people to gather and eat. Some were surprised that CDM was doing this the first time and there was a hint that it should be repeated again in the future. The #JomENJOY Food & Fun Fair brought out the best display of the community spirit and fellowship among the ministries and parishioners at CDM. The event was also able to bring together peoples of various other faiths and different cultural backgrounds and made everyone more aware of the rich diversity found in Penang. Fr Pawel Boguslaw from Korea remarked that he had never see such a spirit of cooperation even in Korea. Members of 12 less privileged families were sponsored coupons to join in the fair together with children and residences from 12 orphanages and homes.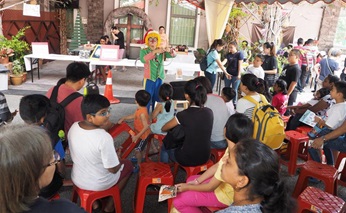 The target of this fund arising event for the building of our new Community Hall and Free Learning Center for all irrespective of religion and status was achieved. But by the grace of God's mercy we have only another RM 9 million to go. Jesus, we trust in You that this will be done.
Written by
Dr. Ivan Filmer
11th September, 2018.