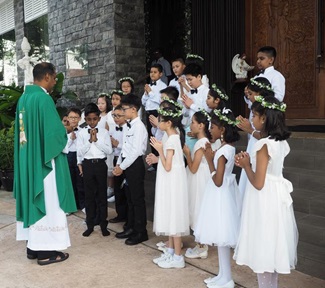 This year's celebration for First Holy Communion was extra special for the 22 children in Std 4. Fr Martin Arlando, parish priest of the Church greeted the children at the front of the church early on the 21st October before the morning mass for a group photo. After that he led them in a prayer on the church steps preparing them to receive their second sacrament of initiation into the Catholic faith.
At the mass, Fr Martin read a shorter version of the gospel of the day at Mass (Mark 10: 42-45) and allowed the children to re-enact the fuller version in a skit (Mark 10: 35-45).

Before the start of his homily, he came down to the children's pews and addressed them personally. He had prepared a laminated bookmark of a picture of the mustard tree with a bible quote from Luke 13:19 accompanied with a story printed on its flipside. The story related a tale of a Chinese woman who had lost a son and was seeking a way to bring her son back to life. She was told to fetch a mustard seed from a home that had never known sorrow and it will be used to drive out the sorrow in her life. As she went from home to home, she discovered how she managed to drive out the sorrow in her life by ministering to the grief of others. In his message to the First Holy Communicants, Fr Martin explained that even though they were very young and small they could be like the mustard seed. They just need to break away from bad habits and make Jesus known to others by serving everyone. To put others first and this love will bring them closer to Jesus. They also need to focus on the Word of God and grow towards intimacy with God through prayer. In this way they will all grow into the big mustard tree.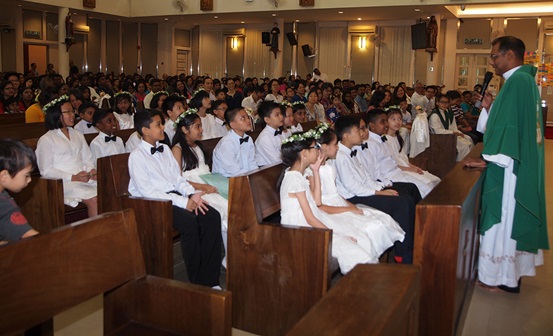 Continuing with his homily to the parishioners, Fr Martin explained that the apostles had not understood Jesus' role. James and John wanted a promotion by asking what they were not fully aware of. The others were indignant as they thought that they were more qualified. But they were ambitious and self-centered. Jesus was showing them that true greatness is all about humility by coming to serve and giving up his life. The first step to entering heaven is humility. We all have a mission, be it through our prayers, financial contributions or awaking others to the faith. All these acts have to be done with humility. Jesus did not punish James and John for their request. He reminds us that to be true disciples is to serve others. We can all do this in our BECs. To be an example of Jesus by attending and sharing our views of life and understanding of the true meaning of service to others.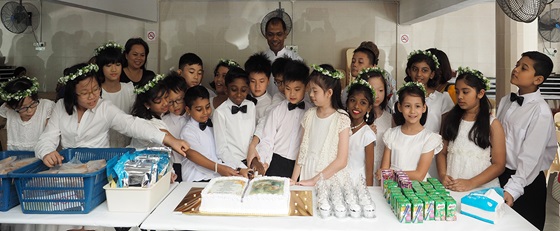 After mass all the children gather at the church basement for fellowship. They joined in the cutting of a cake baked by a parent and received a souvenir of a rosary.
Written by
Dr. Ivan Filmer
5th November, 2018.